We've had a lot of wonderful reasons to celebrate in the past month! Our mobile clinic is finally open and serving women in two locations: Fitchburg and Sun Prairie.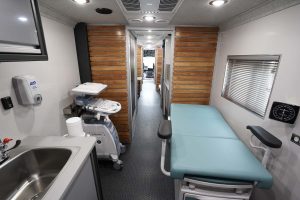 We jumped for joy when the first appointment was made on the mobile clinic, but the celebration was even greater when we saw Mira* in the Fitchburg location. She was a blessing. We were able to offer her the physical, emotional and spiritual help that she needed. Mira was so moved by both the spacious and beautiful interior of the mobile unit, and the compassionate care she received that she told our nurse, "I never knew a mobile clinic could be this nice. Everyone needs to know about this clinic! I'm going to tell all my friends to come here for help."
Meanwhile, in our traditional brick and mortar clinic, we were able to use our brand-new, state-of-the-art 3D/4D ultrasound machine that was purchased thanks to a grant from Focus on the Family and the Knights of Columbus. Our first patient was considering abortion…her situation at home was far from ideal. Bringing a baby into the family just didn't seem like an option. But seeing those beautiful, crisp pictures of her pre-born baby moved her heart in a direction that helped her say "Yes" to this tiny, precious soul.
"Firsts" continue to happen. Today, we saw our first patient at our Sun Prairie location. Yesterday, a recent patient reached out to tell us that her experience at our clinic was so transformational, that she wanted to find out how she could become a volunteer to help others.
For nearly 35 years, we've been celebrating lots of firsts! First breaths, first smiles, first steps. Thanks for making it possible.
Do you have a special "First" to share? Let us know in the comment below.
*name changed