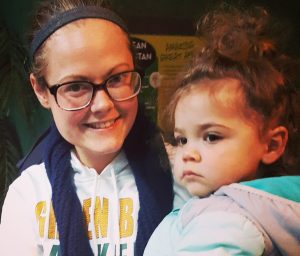 Shelby has made lasting changes for herself and "the love of her life"
Do you remember Shelby*? When we first met her in 2014, she had just hit rock bottom. Shelby had struggled with addiction for years. And then she found out she was pregnant.
"I knew I had to turn my life around," Shelby remembers. "And I did. I found Care Net!"
Now Shelby lives in her own apartment with her adorable two-year-old daughter, Emma*. She is working "her first grown-up job"—a full-time position with UW Hospital. She is paying off her school debt. And she is still clean and sober.
Shelby is excited about her employer's benefits, especially their "School at Work program," which pays employees to meet weekly to brush up on writing, reading and math skills as well as medical terminology and more. Shelby also receives career coaching, which is her first step toward advancing in her career.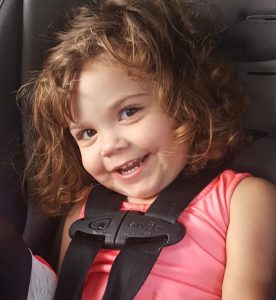 At home Shelby is caring for her "great and beautiful and amazing" daughter, Emma. Emma has just started expressing her two-year-old independence, saying "No way" and "No mama" as part of her growing vocabulary.
Shelby beams as she talks about her daughter. "Emma is a social butterfly. She has so much personality it's crazy.
"Emma loves to help. She likes cleaning. She loves to bounce and jump. And she loves her babies (dolls). She is meticulous about tucking them into bed. It's too adorable."
"I tell her 'I love you' all the time because I didn't really grow up with 'I love yous' a lot."
The best thing Emma tells Shelby? "'I love you too, mama!' She's the love of my life."
*Names changed to protect privacy.