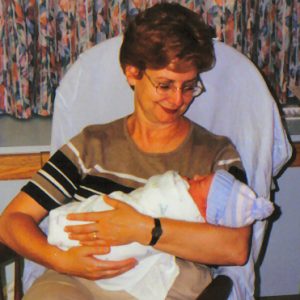 Celebrating 32 Years of Saving and Changing Lives
This week we celebrate Care Net Pregnancy Center of Dane County's 32nd birthday.
On March 15, 1985 we first opened our doors as the Pregnancy Information Center in a tiny office on Normandy Lane on the west side of Madison. That day, the dream of a small group of people, who called themselves the Verona Friends for Life, was realized. There was now a place in Madison where women facing unintended pregnancies could go to take a free pregnancy test and find a listening ear and caring support.
At that time, we had one staff person, a few dozen dedicated volunteers, a yellow pages ad, a monthly budget of $1,375 and a donated IBM electric typewriter.
Beginning that day in 1985, babies' lives were saved and women's lives were transformed with the hope found in the gospel of Jesus Christ.
The Pregnancy Information Center moved twice in the first five years, and then found a longer term home on Monroe Street near Camp Randall for 15 years. While in this near campus location, our Board of Directors decided to make the transition to becoming a medical clinic.
In 1998, under the direction of Dr. Michael Wilson, Volunteer Medical Director, we hired our first nurse sonographer, trained staff and volunteer nurses and began offering free medical services. Under Dr. Wilson's direction, and through a grant from Focus on the Family's Option Ultrasound Program, we began offering medically indicated ultrasounds. We also began offering testing and treatment for sexually transmitted infections (STIs) for women. And all of ours services remained free of charge.
As you know, over the years, we have added other programs to provide compassionate, wrap-around care. Programs like LifeWise healthy relationships and sexual decision making for teens and young adults. And The Elizabeth House residential program offering a safe home for pregnant moms who want to change the direction of their lives. And childbirth education classes and pregnancy and parenting education for moms and dads to help them become prepared to be the best moms and dads they can be. And more. We have always seen God lead and God provide. And we have seen you and others in this community do their part to make a difference for life. (Read the rest of our history.)
Along the way, women and men like you, who are committed to providing real choices to people facing unintended pregnancies, have made saving and changing lives possible. Hundreds of people just like you have invested time, talent and resources to make a difference for babies, women and families. Many have spent time on their knees, interceding on behalf of some of the most vulnerable in our society. Others have walked for life, attended banquets, conducted baby bottle campaigns, participated in a Care Net golf fundraiser or served as a representative between Care Net and their church.
This week we reflect and give thanks for all that you and many others have done over the past 32 years. We rejoice that there are hundreds of men and women in their twenties, and a few who have celebrated their 30th birthdays, who were given life. They were given life because of the sacrifices made by dozens of dedicated people who began this ministry and by the hundreds and thousands more who have made a difference for life over the past 32 years.
We celebrate the teenagers who are texting their friends, learning to drive (but not while texting!) and figuring out where they will go to college – because people like you made it possible for there to be a safe place for their mothers to find a listening ear and compassionate care.
And of course, when we see a baby's first smile, watch a little one take his first steps or see pictures of a five year old on her first day of Kindergarten – we rejoice and give thanks that these little ones were given a life to live.
For all of the first breaths breathed and all of the smiles, laughter, tears, hugs, joys and celebrations – we are most thankful.
Thank you for joining us this week on a trip down memory lane – and thank you for making life possible!