Friendly. Helpful. Non-judgmental. Professional. Kind.
These are words we hear over and over again on exit surveys that our patients complete.
99% of our patients responding to exit surveys rate their overall experience as good or excellent. And 100% of respondents say they would refer a family member or friend to our clinic.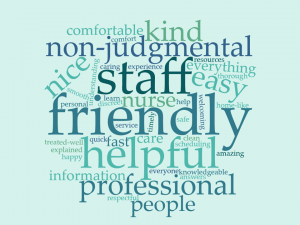 Our patients tell us things like these:
"I felt relaxed as soon as I walked through the door. The ultrasound tech was amazing. She made sure I was okay, and comfortable. I would definitely recommend this place to my friends and family."
"First Care Clinic was amazing. They answered all my questions and made me feel very comfortable."
 "The education provided was wonderful. I felt safe to talk about my concerns."
"It was easy to make an appointment and the staff was very respectful."
 "I am going through a hard time and the people at First Care Clinic were so kind and helpful."
"Staff was the most friendly and welcoming I've experienced."
Those are great recommendations. And we are pleased that our patients value their service and care here. We are grateful that they tell those they know who may be facing unintended pregnancies about the care and services they can receive here.
33% of our patients find us because someone tells them that First Care Clinic is a great place to go for care when making a pregnancy decision. That someone is usually a friend, sometimes a physician or clinic and once in a while a family member.
More than six in 10 (63%) of our patients find us online — not surprising in an era where young adults and teens live on their phones and laptops. It's also not a surprise that our patients in particular would choose to search online. Maintaining their privacy surrounding an unintended pregnancy may be very important to them.
Because so many of our patients find us through searching online, we are glad that the reviews our patients post about us online are very positive. Some of these reviews cite the "friendly and caring staff" and "welcoming" environment.
Proverbs 22:1 says, "A good name is more desirable than great riches; to be esteemed is better than silver or gold."
We are grateful for this good name. We are glad that others making pregnancy decisions, who may feel overwhelmed, may find our clinic. A woman facing an unintended pregnancy will find a friendly, professional person to listen. She will find a kind, non-judgmental nurse to provide medical services free of charge. And she will receive resources and support to be able to move forward.