Recently we were notified of a very large gift we were not expecting. It was a gift from a local church that I was familiar with, but whom had not supported Care Net's ministry in the past. I picked up the phone to call the Pastor right away. I had to know what prompted this incredibly generous gift.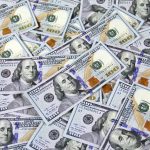 The Pastor shared, "It was after the supreme court decision to overturn Roe V. Wade. The leaders in the church were talking together we all agreed that this can't be something we can simply pay 'lip service' to. We can't believe in this ideology and not put our words into action by supporting people who are dealing with unintended pregnancy.
If we really believe that God wants everyone to experience abundant, whole life – then we have to be willing to financially support ministries that are working to help those who are experiencing an unexpected and unplanned pregnancy."
I couldn't agree more. If we want people to believe in options other than abortion, then we have to make it possible for these mothers and fathers to face a future with a child – or another child – one they can meet with confidence and hope. Coming alongside women with resources that meet their emotional, spiritual, physical, and financial needs is precisely what we're called to do.
I'm thankful for churches, individuals, and groups who are willing to give of themselves – their time, their financial resources, and even their reputation to stand for the right of every child, woman, and man to have the tools they need to thrive.
If you'd like to know more about you or your church can directly meet the needs of women and men navigating an unintended pregnancy, please reach out. Email Sara at sarap@carenetdane.org