Volunteering at Care Net Hits Home for Katie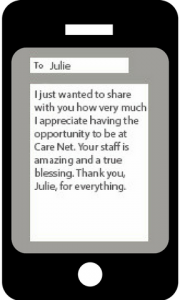 Julie, our COO, received this text from Katie who volunteers in our clinic teaching infant CPR and first aid for our childbirth education classes, and works for UW Health in their wellness department.
"Every time I come in, I'm excited to see what I'm going to get," said Katie. "It is super challenging – especially when we have multiple languages going – but also very fulfilling. During one class, we had two women who were in labor."
While Katie has immensely enjoyed teaching at First Care Clinic and helping parents prepare for their babies, it wasn't until recently that what we do hit home in a powerful new way. "A friend told me that her daughter, Amy*, was pregnant. I've known Amy since she was born…They were struggling with a lot of things."
Katie suggested that Amy or her mom call Care Net. They did.
Amy remembered how she felt. "I did not know what to do when I found out I was pregnant. Not abortion. And not adoption. I didn't know how to tell my parents, so I waited. When I finally told them, my parents made it clear that if I wanted to parent, then I needed to make it my journey."
Amy wasn't sure where she was going to go—or what to do at all. And the father of the baby wasn't going to be around. "Katie told my mom about Care Net and we found out about The Elizabeth House. At first I was skeptical. I had lots of questions. Really? Eight hormonal women living in the same place? Is it clean? Is it safe? What about all those rules? But then we visited, I found that it was a really nice place and my worries went away."
Amy moved into The Elizabeth House and began taking our clinic's pregnancy and childbirth education classes. Her instructor one night: Katie!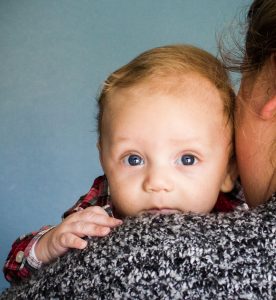 "I got to teach a class Amy was in and it meant so much," Katie said. "Volunteering at Care Net has always been rewarding but this time I saw the whole picture. Plus, this let me reconnect with Amy on a new level, to see the way she is now. The nurses have really taken her under their wings and Amy has blossomed."
Amy overflowed with joy as she related her experience. "What has amazed me overall is how kind everyone is. Having all that support. I can't really imagine not having it.
"It is nice to have daily and weekly obligations to show myself that I can do it. I have received so much helpful guidance to become a 'responsible' adult and parent.
"The biggest way my life has changed since I came to Care Net and The Elizabeth House is spiritual: I have been finding my faith.
"I plan to go back to school in the fall. I want to become a teacher. When I graduate from The Elizabeth House, I will find a place to live on my own and will have all the tools to make everything work on my own and take care of my son the best that I can."
*Name changed to protect privacy.