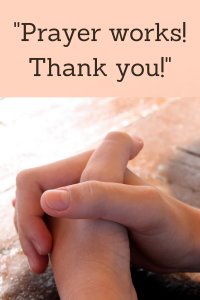 "Prayer works!" exclaimed Kayla.* "Tell everyone who prayed for me, 'thank you.' The company offered me a job on the spot!"
Kayla's summer job is coming to an end and she has been applying for a permanent position to start this fall. She came home from her interview nearly jumping for joy! She had been offered a good job with a substantial pay increase and accepted it all in the course of the interview.
Kayla, a resident of The Elizabeth House, knew that staff and volunteers at Care Net were praying for her. Our staff had lifted up Kayla and her interview during our morning prayer time the day of her interview. And we were thrilled to see God answer our prayers and Kayla's prayers.
Even more, we are rejoicing that Kayla is seeing her loving Heavenly Father care for her and move on her behalf.
Many residents of The Elizabeth House, and patients in our clinic, have not experienced the loving care of an earthly father. Some have never had a dad in the picture. Others have memories of pain and heartache associated with their fathers. "Father" may not bring up images of a caring protector and provider.
When one of these young moms encounters the love and favor of our Heavenly Father, it can be revolutionary. And we are praying that it is.
We pray for each mom who lays her head on a pillow at The Elizabeth House. We implore her loving Heavenly Father to care for her, provide for her and show His love to her. We pray that she will know that He cares for her so much more than many sparrows. We pray that she will choose Him as her Father and accept the love He has for his daughter.
Thank you for making it possible for Kayla to experience the love and provision of her Heavenly Father.
* Name changed to protect privacy.
Want to join our prayer team? Find out more and sign up to pray with us.