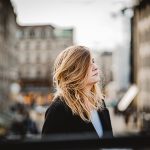 Trina* is like many twenty-somethings.  She bought into the belief that sex is the natural progression of dating  and thought she was in a committed relationship. Imagine her surprise when she learned her boyfriend of seven months was unfaithful.  
"I thought I 'd made a good judgment about his character. But I guess I hadn't."   
Trina found herself worrying about how her partner's infidelity might affect her. Could he have given her a sexually transmitted infection?  How many partners did he have that she wasn't aware of?  
 Searching online, Trina found Care Net offered free testing and that our mobile clinic would be near her.  She made an appointment. 
"I felt so comfortable when I entered the mobile clinic.  It was so welcoming – not weird like I thought it might be.  The nurse explained everything perfectly." and  
While free testing may have been what drove Trina to make an appointment, that wasn't the only thing she received at her visit. As Trina shared the hurt and betrayal she had experienced in her relationship, we asked her to think about her value and worth as a woman. That conversation sparked Trina to embark on some serious introspection.  
Since visiting Care Net's First Care Clinic, Trina says her thinking has changed "a lot."  
"I'm thinking differently now.  I am focusing on me and my value, and setting boundaries.  I've had a 100% change in the way I think about sex and relationships.  I am thinking seriously about who I chose to spend my time with." 
Trina shared that she's given herself permission to think about herself and her desires.  She realized that a sexual relationship is not what makes her whole.   
What about you? Do you or someone you know struggle with setting boundaries?  We can help!  Call or text to make an appointment to talk to one of our peer advocates and start building healthy relationships today! 608-259-1605