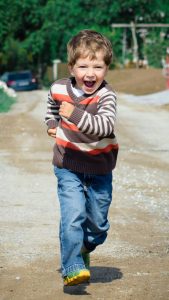 Thank you for giving life to Caden.
"He's alive today because of you," Alyssa* told us.
Alyssa recently came to our clinic with her five-year old son, Caden*. We'd first "met" Caden six years earlier when Alyssa came to our clinic for an ultrasound. At the time abortion had seemed like a solution to an unintended pregnancy.
But as often happens, when Alyssa saw her baby's heartbeat, her own heart began to change. We helped her consider who was in her life who would be supportive of her raising her baby. We helped connect Alyssa to community resources. We offered classes to help her prepare for childbirth and parenting. And Caden's life was saved.
When Alyssa suspected she was pregnant again, she came to our clinic because she knew she could trust us. Alyssa was concerned about raising another child. Although she did not want an abortion, she also felt overwhelmed and uncertain.
We don't yet know what Alyssa will choose for her baby. We are praying for her and her children. We pray that instead of being overwhelmed by circumstances, she will be overwhelmed by her love for Caden and love for her unborn child.
And we rejoice and give God thanks and praise for the work He did in Alyssa's life six years ago. We celebrate that Caden is alive because of you. We are delighted that he smiles and runs and plays like a five year old boy. We are grateful that we got to meet Caden.
Thank you for making it possible for Alyssa to experience her babies' heartbeats. Thank you for bringing hope to Alyssa and life to Caden.
* Names changed to protect privacy.
Would you like to pray for women like Alyssa? Join our prayer team.