Celebrating Milestones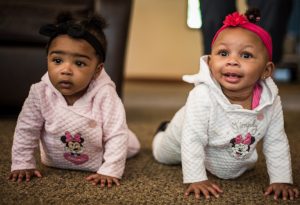 Two babies who live at The Elizabeth House started crawling recently. Those were days of great joy! Their moms, and the other moms and staff and volunteers were thrilled. Everyone celebrated these special moments. Moms captured those smiling faces and moving little bodies on video on their phones.
As moms, we await our baby's first smile and those adorable laughs and coos. As baby begins to crawl, we realize we need to double down on our safety efforts and make sure the cupboard doors are latched closed and outlet covers are in to avoid curious fingers. But we celebrate this progress, even though it means more work for us for a while as baby explores his/her boundaries.
And then we'll celebrate baby's first steps and little Johnny's first day of Kindergarten and learning to ride a bike. We'll celebrate when Susie learns to tie her shoe and spell her name.
Over the years, we'll celebrate many milestones. We'll take video of dance recitals where Susie is adorable in her little outfit and the dancing is "in progress." We'll capture moments in soccer games where Johnny is more interested in a butterfly than the ball. And we'll have our phones out for the first band concert, the first basketball game and the middle school play.
Fast forward to high school graduation and capturing many "last" moments leading up to it. We celebrate Johnny's and Susie's accomplishments. We are excited for the possibilities that lie before them.
We're excited to be celebrating special little moments with moms and babies. It warms our hearts to see baby's first smile and her funny faces and laughter bring us joy and laughter. We are thrilled to be able to celebrate the accomplishments of the women who call The Elizabeth House home.
Over the past few months, we rejoiced when a mom at The Elizabeth House got a new and better job. We have been delighted to see these women find emotional and spiritual healing and become joyful people. We have cheered as young moms become the best moms they can be. We celebrated when a resident persevered through many challenges and found her own apartment that she and her child can move into when she graduates from The Elizabeth House.
We are grateful to be there for the process as moms of The Elizabeth House learn to "crawl" and then get their feet under them—and walk and run. We are thrilled to see our moms start to smile more and enjoy healthy relationships. We love it when a mom bakes a cake for the first time or learns to cook something new.
We are most excited when our moms see the pleasure of their Heavenly Father as He rejoices in them through life's ups and downs. We know He delights in them on their best days and on their worst days. We watch Jesus give them "a crown of beauty instead of ashes, the oil of joy instead of mourning and a garment of praise instead of a spirit of despair." We watch Him create them to "be called oaks of righteousness, a planting of the LORD for the display of His splendor." We see them begin to "rebuild the ancient ruins and restore the places long devastated." We look forward to seeing them renew what has been "devastated for generations." (Isaiah 61:3-4)
We are thankful that God has allowed us to be a part of celebrating milestones. We are especially thankful to be a part of His transforming work as he plants oaks of righteousness. And we are thankful to you for being a part of making this restoration possible.