"My daughter is here today because of you." Kendra* and her four-year-old daughter, Aubrey*, were at Spring to Life over Mother's Day weekend. They came to the Care Net table to say hello. And Kendra wanted us to see Aubrey. Kendra had come to our clinic when she was pregnant with Aubrey and we had not seen her since Aubrey was a baby.
Kendra was one of a number of women who are former clients of our clinic or residents of The Elizabeth House who came to have fun with their children. They were celebrating what Care Net had done in their lives. And they were enjoying time with other moms, dads and families.
Over 600 people came to Spring to Life and celebrated lives saved and changed. And we were thrilled to celebrate with a few of the moms whose lives were changed!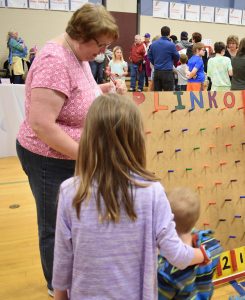 Moms were pampered. Kids of all ages played games and got their faces painted. People won prizes, teens learned about healthy relationships and adults learned about Care Net.
Lines were long for pampering, but the women who waited said it was worth it. "That was so wonderful!" said one mom who came with her husband and their two young boys.
Many people who came to the Care Net table said they knew about us from the Baby Bottle Campaign at their church—but they didn't really know what we did.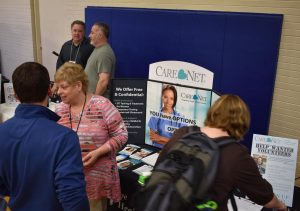 At Spring to Life, they learned that we have a medical clinic. In our clinic we provide a pregnancy testing, ultrasounds and STI testing for women. We let women and men making pregnancy decisions know about resources available to them. We provide a listening ear and we help our patients sort out their options.
They heard about our new fatherhood program, Being Dad. Being Dad lets dads know that they matter and helps each expectant dad to become an involved father.
They discovered that women and men who come to Care Net can take advantage of one-on-one educational opportunities. Expectant parents can choose from 90+ topics on pregnancy, childbirth, and early parenting to prepare for the birth and care of their child.
They found out about The Elizabeth House residential maternity and parenting program. The Elizabeth House provides a safe place for a new start for pregnant women and their children.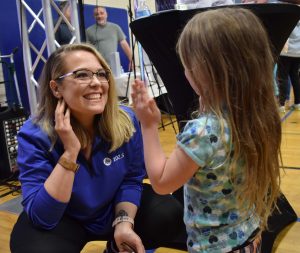 The room nearly exploded with joy and so much fun. And we are very grateful to Life 102.5 who co-hosted this event with us and spread the word about Care Net to their listeners.
Looking around the crowded room of people enjoying the day, one of our volunteers exclaimed, "Everyone here is happy!" We are very grateful for the opportunity to spread some joy. And we were happy to help families in our community learn a bit about Care Net and how they can be involved saving and changing lives.
*Names changed to protect privacy.