Abortion was
the
only way out.
Until an ultrasound changed everything.
The news couldn't have been more shocking.
Kathy was sitting at a doctor consult for a tubal ligation when she heard the news. "I'm sorry, we can't more forward. The bloodwork shows you are pregnant."
How could this be happening? The plan was to prevent another pregnancy from ever happening, and now...
Kathy was already a single mom to a young son. A second child would only increase her financial burden and leave her more overwhelmed than she already was. "Being a single parent is hard," said Kathy. "Things are not so great with the dad. All I could think was, 'I need an abortion.'"
Kathy made an appointment at the abortion clinic. But an ad on the radio changed her life's path and that of her child.
"I heard an ad for free ultrasounds, so I made an appointment for two days before my abortion was scheduled."
Kathy came into our clinic and our nurse sonographer performed an ultrasound. Kathy saw something beating: her baby's tiny heart.
That appointment changed everything.
"When I saw that ultrasound I just knew in my heart that I wasn't going to make it to my abortion appointment." Kathy called our clinic a few days later to share her change of heart and sign up for one of the many classes we offer.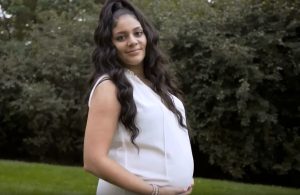 Since then, Kathy has been visiting us weekly for lessons and support. As she takes parenting classes, Kathy earns dollars to spend in our boutique on practical baby must-haves like clothes and diapers. Kathy's baby girl is due in February, and she already has a lovely collection of supplies ready to welcome her new daughter.
"I don't know where I'd be if I hadn't found Care Net," Kathy said. "I'm so grateful for everyone who makes this help available and it's meant so much to have their support every step of the way. These people don't even know me, but they've been here for me. Because of Care Net, I know things are going to be ok."