Macy* and her new boyfriend, Dylan*, had only been dating a short time. Somehow things had moved quickly—too quickly, Macy realized—and now Macy was pregnant.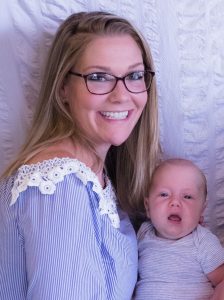 Macy felt scared and alone. Not sure where to turn, she made an appointment at Care Net. Dylan agreed to come with her and the two met with one of Care Net's nurses. "Billie Jo was so comforting," remembered Macy. "She explained everything, was so kind and really helped us sort through next steps."
Macy had found a safe harbor. She felt ready to carry her baby, and when Macy and Dylan left Care Net, Macy felt like she had a plan to move forward and the support she needed to make it a reality.
But what happened next was something Macy could not have prepared for.
Macy got a call from a woman looking for Dylan. She let Macy know that Dylan was not a first-time dad. In fact, Macy learned he had six children. Six children that he did not see or support. Everything he had told Macy seemed to be a lie. Macy's world was spinning out of control.
Macy learned that when the lies began to unravel, Dylan would disappear, moving on to a new city and a new relationship with a new make-believe past. It was no surprise that when she confronted him, Dylan left…and she has not heard from his since.
"I felt like I was starring in a movie – you think this stuff can never happen in real life. Only it really was happening to me," Macy said. "In an instant, everything had changed."
Everything, except the most important thing: A baby boy would soon take his first breath. Macy vowed to do her very best to protect and love that baby, despite the circumstances.
"I'm so grateful for the support that Care Net provided," Macy said. "What they do is out of pure kindness. It's been an amazing experience and I have a beautiful baby boy because Care Net was there for me."
Thank for helping young moms like Macy have the care and support to say "yes" to new life, no matter what life puts in their path.
*names changed for privacy