"Whoever brings blessing will be enriched, and one who waters will himself be watered." Proverbs 11:25
Andrew needed a car. Money was tight, so Andrew's boss and brother chipped in to help him purchase one from a neighbor, who'd deeply discounted the car so Andrew could afford it. It was an incredible, life-changing blessing for Andrew.
Fast forward a few years, and Andrew and his wife were ready to purchase a new car. But they knew they didn't want to sell or trade in the one they had—they wanted to gift it to someone in need.
Andrew called Care Net and asked if we knew of a single mom who might need a car. We did.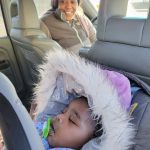 Jada* was a young mom who had been hurt by untrustworthy and damaging people. She had little reason to trust anyone, but through the miracle of God's love, she met Tanis, our clinic director and the two women made a connection.
Jada came to depend on Tanis and knew she could call her for help at any time. And that's just what Jada did when she suspected she might be pregnant.
Jada was already a single mom, and was not prepared for another baby. But having suffered deeply from past pregnancy decisions, she was unsure what to do. Because of the trust Tanis had built over the years, Jada felt she could confide in her. More than once, she reached out to Tanis to talk through her options. Even though Jada often felt like there was no hope for her or her unborn child, Tanis was able to encourage and strengthen her faith, reminding her that God had a plan for her life and for her child. Jada's confidence in her decision to choose life grew, and she gave birth to a beautiful baby girl.
Jada now had a lovely little family, a steady job and good childcare. But one critical thing was missing: reliable transportation. Once again, Jada reached out to Tanis.
You likely won't be surprised to know that Andrew called just days later with news that he had a car to donate. We knew right away who that car was for.
Thanks to this couple who was willing to be the hands and feet of Christ, Jada now has a vehicle that will allow her to get to work every day and access childcare, and many other resources. Jada said through tears, "I am so blessed to have ya'll….You don't know how much I needed this car."
Do you want to help single moms like Jada thrive?  Contact us and find out how God can use you to change and transform lives!
*name changed for privacy