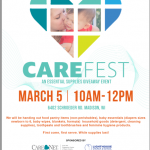 Care Net is partnering with Extended Hands Pantry, LightHouse Church & School, Asbury Methodist, and Familia Dental for an essential supply giveaway event!
Families in need, single moms, and dads can come by LightHouse Church on Schroeder Rd on Saturday, March 5 from 10:00 am -12:00 pm for free diapers and baby essentials, household goods such as detergent and cleaning supplies, feminine hygiene products, and personal care items such as toothbrushes and toothpaste.
In addition, we'll have people standing by who can answer questions about specific resources and offer prayer support. First come, first serve while supplies last.
We are excited to bring together community resources with those in need. Is there a single mom you know who could use a helping hand? Please let them know about this event or, better yet – offer to drive them!