Have you ever tried to keep a shameful or embarrassing secret? If so, then you know the feelings of anxiety and fear that cover you like a leaded blanket, weighing you down and permeating every thought.
Imagine that your secret is a pregnancy. Then imagine the people you live with are the very ones you fear—and that their discovery of your pregnancy might result in physical abuse, or losing your home altogether.
That was the reality for Malia*. Pregnant and scared of an abusive father and step-mother, she did her best to hide her pregnancy. Vomiting in secret, disguising a belly that continued to grow, sneaking out to doctor's appointments. Malia lived in fear her secret would be discovered.
She had already demonstrated incredible strength and bravery. The father of the baby had told Malia to end the pregnancy, that he was not ready to be a dad. "If you don't want to be a part of this, you don't have to. But I'm not ending this pregnancy," she told him.
Despite the obstacles, Malia considered her pregnancy a miracle. Growing up in Africa with congenital medical problems, she was told she might never have a child. As a teen, she was sent to the U.S. to live with a father she had not seen since infancy so she could access better treatments.
Sadly, Malia's home life was not what it should have been. Police intervention had stopped physical abuse, but it was replaced by emotional rejection.
Malia's doctors knew of her desperate situation. They suggested she consider moving into our maternity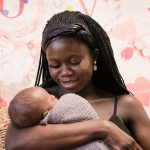 home, The Elizabeth House. Thanks to you, they knew that Care Net was a safe place for Malia to call home.
"Here I have sisters and a family who care and look after me. Moving in meant I had instant support, where before I had none. Here, I trust the people I live with, and I can talk to them about anything," Malia shared, "Where would I be without this place? I don't know. My heart is so grateful… it's hard to find words."
Because of your loving kindness, Malia no longer has to be brave alone. She is surrounded by supportive people who affirm her decision to value and protect the precious life of her unborn child.
Born in the midst of a pandemic, her baby boy, Aren*, is a testament that God sees the trouble of the afflicted, and is a help to the fatherless. Thank you for supporting and protecting this courageous mom and her baby. You have made a life without fear possible.
*names changed