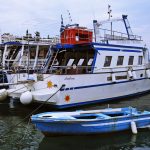 "Being in the same storm does not mean we are all in the same boat."  *
We've all witnessed how the pandemic has highlighted inequalities. Some families are trying to stay afloat on a wooden raft—one round of waves and they'll capsize. Those navigating in safer crafts are better able to handle the plummeting waves but still sea-sick from the violent tossing.  And others ride the storm on a cruise ship – rolling with the waves, tucked safely inside a blanket of heavy steel.  
The women who face the storm of unintended pregnancy are experiencing similar inequalities. Some had a secure and loving childhood that provided the tools to process difficult emotions like fear and anxiety, and a network of loving friends and family who will walk with them through this journey. But many did not.  Their traumatic childhood experiences make it difficult for them to recognize a healthy relationship and they often lack the emotional tools and support to face a crisis. And too many women lack access to even the most basic physical resources, like food and safe shelter.  
In the next few months, Care Net will embark on extensive strategic planning.  I would like to have your insights and thoughts to inform the process. How can we best take the lead in creating a culture where all human life—regardless of social or economic status, race or ethnicity, mental or physical ability—is valued and protected, and women and men have support to choose life? Email me at sarap@carenetdane.org or call 608-259-1606 and let's talk. 
God's Kingdom is a just kingdom. It is a place where equality and justice prevail.  Widows and orphans are cared for – protected, treasured, and valued. Survival is not enough for the moms, dads and families who turn to us.  We must work to ensure these vulnerable lives can thrive.  
Thank you for joining us to make that possible.  
*author unknown