Social distancing has become the new norm over the past few months. Which means Care Net has gotten quite creative when it comes to finding ways to connect with the men and women who desperately need the lifeline Care Net provides. Women like Kathy.
You may remember Kathy from last year when she shared her courageous story at the banquet and in a newsletter. She had an abortion scheduled but God had other plans. Kathy heard a radio ad for a free ultrasound at our clinic and made an appointment. After seeing her tiny baby and realizing that support was available, Kathy canceled her abortion.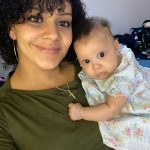 Kathy gave birth to a beautiful baby girl, Faith*, in February. But the many joys of being a new mom were accompanied by the stress of parenting in a pandemic. Kathy still had questions, and she needed advice and help. She couldn't physically come to our clinic so we brought the resources of our clinic to her. We sent Kathy educational parenting classes via text. Our education manager provided "virtual" breastfeeding support. This meant Kathy was never truly alone.
As the isolation caused by the pandemic has increased, we've found that supporting moms like Kathy has been even more vital than usual. And the demand for resources like diapers and wipes has also intensified. "Contactless delivery" has become our specialty as we've distributed a variety of virtual services and over 30,000 diapers over the past few months.
Care Net is still here. Still making a difference. Still connecting, despite the distance COVID-19 has created. And moms like Kathy are grateful your support has made that possible.
*name changed