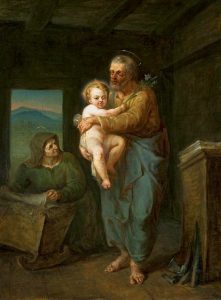 "This is how the birth of Jesus the Messiah came about: His mother Mary was pledged to be married to Joseph, but before they came together, she was found to be pregnant through the Holy Spirit" (Matt.1:18).
What an extraordinary way to bring Jesus into the world. There were a lot of other ways God could have introduced his Son. Possibly a royal birth and a flashy announcement. Or perhaps to a well-respected Jewish leader and his wife. Maybe Zechariah, who'd been faithfully serving in the Temple. Or he even could have waited until after Mary and Joseph were married, and then prepared the two of them together.
Instead, he chose a different way: a low income, teenage girl becomes pregnant out of wedlock.  Jesus' conception was an unplanned pregnancy.  As shocking as that is, [Care Net President Roland Warren has a great talk on it] I want to focus on Joseph, who didn't like the news Mary gave him and so "had in mind to divorce her quietly."
Think about the implications of that decision for a moment. Jesus was almost born into the world without a human father.  Mary was almost a single mother. Granted, God's eternal plan was certain to go the way he intended – but not if Joseph were left to figure things out for himself.
We'll return to that in a moment.
Joseph found himself in an unexpected place, but it's not at all uncommon. Almost every unintended pregnancy comes as a jolt that can re-order our lives, plans, and lifestyles. And so Joseph decided to end the relationship, leaving Mary to raise Jesus without a human father.
In our country today, fatherlessness has reached almost epidemic proportions. According to the most recent census, approximately 24 million children don't have a father present in their home.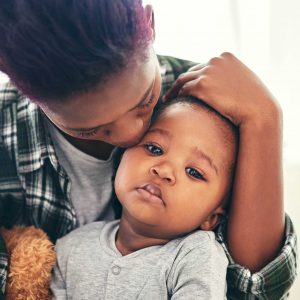 Here are a few of the mind-blowing consequences. Fatherless children are:
Twice as likely to die as an infant
Four times more likely to experience poverty
Two times more likely to drop out of high school
Seven times more likely to become pregnant as a teenager
Most of these numbers identify the negative effects of growing up without a dad present. But here's the thing: a father's impact begins before the delivery room. It actually starts the moment he learns he's going to be a dad.
A recent study posed the following question to more than 1,000 women who had an abortion: "With whom did you discuss this pregnancy termination/abortion decision?" 61% of these women said that they had this discussion with the father of the baby.  More women talked with the father than they did to a medical professional (48%), friends (29%), or their own mother (32%). The father of the baby has considerable influence in the decision to have an abortion.
Moreover, if the mother chooses to carry the child, her relationship with the father has a tremendous impact upon the baby's development. A 2017 report by the University of Rochester Medical Center determined, "fathers indirectly impact fetal development, birth weight, and preterm birth. This is proposed to be primarily through their effect on maternal well-being, stress levels and behaviors during pregnancy." Also, "The literature on fathers indicates that, when fathers are not involved during pregnancy, there is a greater risk of infant mortality."
Since we want to see more women choose life, a reasonable place to focus our efforts is with the person who has a 61% chance of influencing that decision. We also want to gain his support so that the baby and Mom are in better health throughout pregnancy and after delivery.
So how can we address this great need?
Let's go back to Joseph.
"But after he had considered this, an angel of the Lord appeared to him in a dream and said, 'Joseph son of David, do not be afraid to take Mary home as your wife, because what is conceived in her is from the Holy Spirit.  She will give birth to a son, and you are to give him the name Jesus, because he will save his people from their sins'…  When Joseph woke up, he did what the angel of the Lord had commanded him and took Mary home as his wife." (Matt.1:20-21, 24).
His initial reaction was, "No, I don't want to be a part of this. I don't want anything to do with this pregnancy. I don't want this child." In the end, however, he changed his mind, taking Mary as his wife and welcoming the child into his life. Why? What changed his mind?
Someone intervened—actually met him where he was—and gave him a message of hope. The angel broke through to Joseph by saying to him, "I know you're afraid, but if you stick with this, there is hope and reward on the other side."
Now none of us are angels and there's never going to be another Jesus, but we can see an outline of what worked. God sent someone to him, who didn't provide all the answers or give him a quick solution. (In fact, he probably created more questions than he answered.) Instead, he provided a message of hope.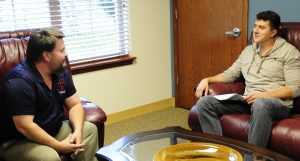 This is what we're seeking to do at Care Net with our Fatherhood Program: Meet fathers at the point of need and decision.
We want to create a support network for each man that equips and encourages him to choose engaged fatherhood. This will involve meeting with each man one-on-one to listen and walk with him through an emotional decision. It will mean providing him with fatherhood prenatal training and spiritual counsel. It will mean helping him to cultivate healthy relationships. All of these things will help him step up and step into fatherhood. Our Fatherhood Program aims to meet fathers where they are at with compassion, support and a message of hope.
Contact me to find out more about our Fatherhood Program or how you can be involved.