There is so much pain and suffering in our world and in our community. The past couple of weeks, calls to our clinic and maternity home have greatly increased. The pandemic continues to take its toll, as more people fall victim to its destruction. And I'm not talking about the ones who test positive.
It's women like Deborah* who stood in our doorway, her shoulders heaving from the tears that wouldn't stop flowing. "I have no one but you to help me," she said, "You are the only people who are here for me."
Deborah is pregnant and due in just a few weeks. She is not working and has a preschooler at home. She has no family nearby to help. She came by for diapers and baby supplies – and much-needed prayer. We did our best to encourage Deborah and promised to follow up with her in a couple of days. She left with her arms full of things she needed to care for her family and her spirit was encouraged. And something flickered on her face as she said goodbye – a glimmer of hope. As hard as things are for Deborah, she experienced compassion, and she saw that she is not alone. And that changed everything.
Our maternity home is welcoming two new residents this week. Neekie* had been sleeping couch to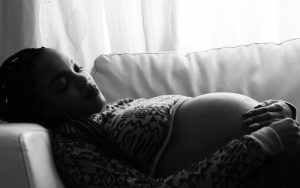 couch for more than a year. But not tonight. Tonight- thanks to friends like you- she has a bed to sleep in, a room to call her own, and most of all – an opportunity to make a new start. Neekie can dream of a future for her and her unborn baby that is full of promise and hope. Surrounded by other moms and our caring team, she now has the support to become physically, emotionally, financially, and spiritually healthy.
That's life-changing. Not just for Neekie, but for the generation that she carries in her womb… and for every generation that comes after.
You're helping Deborah. You are helping Neekie. And so many others. Thank you for caring and loving your neighbor and joining us as we carry one another's burdens.
*names changed