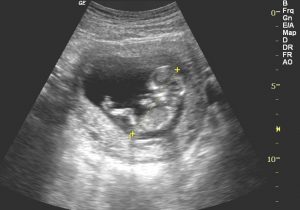 "Look!" Ryan* told our Fatherhood Specialist, holding up a black and white ultrasound photo of his tiny preborn child. He was grinning from ear to ear.
But just a couple weeks earlier, his girlfriend, Stephanie*, held the secret that she was pregnant. When she first came to our clinic, Stephanie was afraid to tell Ryan that she was pregnant. She didn't know how he would react and knew that now was not a good time to be pregnant. It seemed like it would be easier to end the pregnancy and not tell anyone about it.
We offered Stephanie an opportunity to come back for an ultrasound and bring the father of her child with her. But Stephanie did not return our messages when our nurse tried to contact her to make this appointment. After a few unreturned calls, we thought that we would not hear from Stephanie again. It seemed likely that she had decided to have an abortion.
To our surprise, Stephanie and Ryan came together for an ultrasound. During the ultrasound, it became clear that Ryan was thrilled to be an expectant father. He is supportive of Stephanie and wants to be there for her and for their child.
A woman often turns to the father of her child for help in making a decision of whether to abort or carry to term. In fact, 61% of women who have had abortions say they have talked to the father of the baby about their decision. Stephanie was no different.
People like you made it possible for us to talk to a key person in the decision-making process. As a result, a life was saved! Ryan is looking forward to coming back and participating in parenting classes designed just for dads. He is eager to meet with our Fatherhood Specialist, Mitch, to learn how to step into fatherhood. Thanks to people like you, he is on his way to becoming the best dad he can be.
*Names changed to protect privacy.