If by matchmaking you mean connecting people to churches, then we do a lot of that. In fact, it's something we are very passionate about.
As we work to build relationships with our patients and clients, nothing fills us with joy more than when someone expresses a desire to explore or grow in their faith journey. That's where our church partners play a critical role.
While our support services extend for the few years after birth, we know that women and men need support their entire life. That's why we get excited every time a client begins to attend a local church. We know that the church is immensely important in the long term success of our families.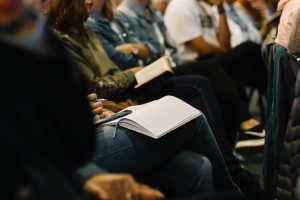 For some of our families, visiting a new church can feel daunting. That was the situation with a family we have been working with for the past year. They were interested in attending a church, and asked if they could go to a particular church with a staff member. We were happy to make that happen, but the location was a barrier, making it hard for them to attend regularly. In addition, they wouldn't be able to take advantage of the smaller groups that meet during the week.
So we contacted a church very close to their house and arranged for some church members to meet them at a local park. The social context of this relaxed meeting put everyone at ease. The next day, when they attended church service, they had a familiar face waiting to greet them and show them around. Suddenly, a visit to a new church didn't seem so scary!
We are very grateful for the opportunity to work with the churches in Madison and the surrounding areas to connect people with the body of Christ to support and encourage them on their faith journey. Thanks for being the hands and feet of Christ.