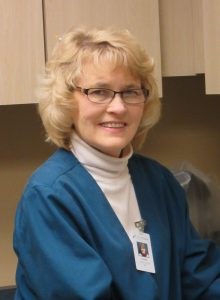 By Chari Suiter, RN Volunteer
About a year and a half ago I felt God leading me to volunteer in some area of ministry. One day a Care Net Facebook post caught my attention. I knew right away that God was speaking to me.
I immediately went through the training to become a volunteer clinic RN. My eyes were opened to the impact I could make in the lives of patients and clients who walk through the doors of Care Net's First Care Clinic. What I really appreciate is the ability to not only address the physical issues that our patients are facing – but also the spiritual aspect of decision-making.
I love how the staff begins each day with prayer and scripture reading. There is always a genuine concern for the well-being of each individual that we have opportunity to serve.
Volunteering at Care Net has certainly been a time of learning and growing, and feeling the satisfaction of walking through challenges – and celebrations – that our patients experience.
Editor's note: We are grateful to Chari and all of our wonderful volunteers who make an impact in the lives of the women, men and families they serve through First Care Clinic and The Elizabeth House. We couldn't do it without you!