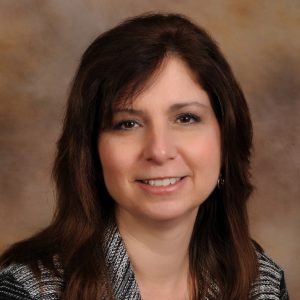 I remember my first banquet. Having lived in Madison for under a year, I was wary of the liberal environment I found myself living in. I had come from a small conservative town where life-affirming values were the norm. Madison seemed the polar opposite.
I had begun to think that people who shared my beliefs in upholding and defending the sanctity of life for every child were few and far between. When I heard that hundreds of people attend Care Net's life-affirming banquet, I thought, "This can't be true." Boy was I wrong!
Looking around the room, I had a sudden "Elijah" moment. As we go about our day to day routines, seeing Facebook posts, news reports and programming that seems to glorify abortion as some sort of 'victory for women ' we may feel we are alone in our belief that every human life is sacred and worth defending. We tend to fall into the trap of thinking that we are a one-man army. In 1 Kings, Elijah tells God, "…For the children of Israel have forsaken thy covenant….I, even I only, am left."
But God gently reminded him, "Yet I reserve seven thousand in Israel, all whose knees have not bowed down to Baal and whose mouths have not kissed him." I can only imagine how comforting those words were to Elijah! To know that there were others who shared his beliefs, who desired to do what was right in the sight of God.
You may have the same awakening at a Care Net Banquet. Here, hundreds of people from over fifty different churches across denominational lines come together to celebrate the miracle of life. You'll find that you are not alone. You'll see how others are using their resources to be the hands and feet of Christ to hurting men and women. In turn, this will better equip you to go out and defend life 365 days a year.
We often hear from attendees that they enjoy the testimonies shared. Women who've received care in our clinic share why they thought abortion was their only option. Our patients often face significant barriers and unimaginably difficult circumstances. They tell what influenced their decisions to choose life in spite of all the challenges.
Care Net's keynote speakers provide perspectives on how the battle for life is being fought and won — one woman, one man, one family at a time. While the exact stories and topics may vary from year to year, they have a common theme: they inspire, empower, and ignite passion in our attendees.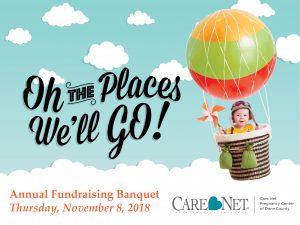 Maybe you've seen announcements for the Care Net banquet in our newsletter or seen emails promoting the event. Perhaps someone you know has asked you to attend, but you declined, thinking there wasn't anything in it for you. Maybe you have been to a banquet many years ago and you've thought there's no reason to come back. Well, this year I'd like to personally invite you to say "Yes!" to the Care Net banquet.
Say Yes to getting together with like-minded people. Say Yes to gaining a fresh perspective of the body of Christ in the Madison area who makes a difference to save and change lives. You can say Yes right now by clicking to reserve your seat.
There is no cost to attend. And even though they say there are no free meals, for you on this night, there is a free dinner included. Generous underwriters have covered the costs for your entire meal and all expenses related to putting on the banquet. At the end of the evening you will be invited to make a gift to save and change lives. The underwriters do this because they want you to know that 100% of the gifts received at the banquet directly benefit women and men facing unintended pregnancies. They sponsor the evening so you can say Yes without concern — and come and learn more about how Care Net is changing hearts and minds through the grace of God.
If you are nervous about coming alone, feel free to bring a friend or two! At each banquet we hope that 50% of our attendees are coming for their first time so we can spread the word and grow the army.
If you prefer not to invite someone else but hope you'll find someone you know, I've got the solution for that too! Each of our staff members hosts a table at the event and we'd love to seat you with one of them. You will learn more about what happens on a daily basis at Care Net from people who experience it firsthand. Just send me an email and ask to sit with a staff member. I'll line you up with a great seat!
(And don't be surprised if you see lots of people you know. It's a melting pot of life-affirming people all coming together to offer women real- choices for unintended pregnancies!)
Details you need for this year's Oh the Places We'll Go! Fundraising Banquet:
When: Thursday, November 8, 2018
6:30 pm Seating begins 
7:00 to 9:00 pm Dinner and program
Where: Monona Terrace
You will go out in joy and be led forth in peace. Isaiah 55:12a