Sandra contacted us for pregnancy and parenting classes after she learned about our programs at a family fair. She and her husband were expecting their first child. Struggling to make ends meet, they made too much money to qualify for most help, but not enough to make ends meet. And a baby was on the way.
Sandra shared, "I was so scared of not having things needed for my baby when I found out I was pregnant."
She was under tremendous stress and in need of support. Katie, our Education & Care Coordinator, explained that as she took classes, she could earn points to purchase items she needed for the baby, like diapers and strollers. Sandra was grateful for the help, but soon she realized she needed more than that.
Sandra's son, Thomas, was born with a congenital defect that required immediate surgery to save his life. Sandra called Katie to let her know right away. When Katie asked if she could pray with her, the answer was an emphatic "Please!".
Katie prayed for strength and peace for the parents and healing and recovery for little Thomas. Over the next few months, Thomas would endure many surgeries, and the family's stress grew. Katie remained connected to the family, offering support, prayer, and a listening ear whenever Sandra needed one.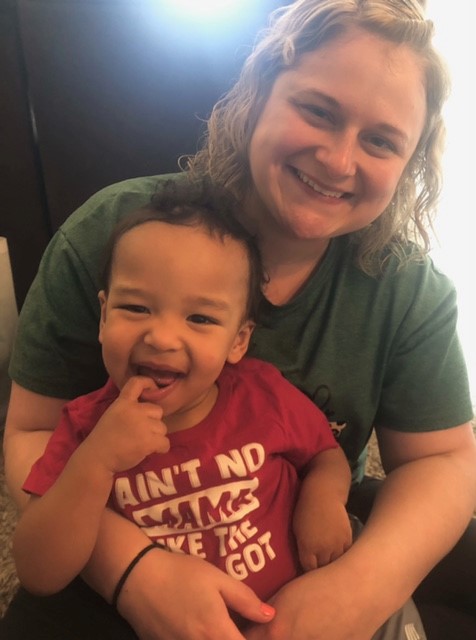 Just when Thomas seemed to be doing better, Sandra's husband was unexpectedly diagnosed with a serious illness and was unable to work. Suddenly Sandra was the only breadwinner for an already struggling family. She told Katie, "I'm really scared. For the first time, I honestly don't know how I will pay the rent or the electric bill."
Katie let Sandra know that as a client of Care Net's First Care Clinic, she was eligible to apply for benevolence funds to help her pay those pressing bills. Sandra couldn't believe her ears. She was approved for emergency funds to get her through the crisis, and she was referred to volunteer financial counselors to help her identify ways to save money and to create a workable budget. She's faithfully worked with counselors and recently sent them a special thank you message.
"Thank you for helping me through this. I've learned so much, and I'm using the tools you gave me. You've relieved so much of my worries and have taught me so much!"