The year was 1998. Care Net Pregnancy Center of Dane County was then the Pregnancy Information Center. This name was often abbreviated PIC. PIC also stood for the three branches of the then much smaller ministry: Prevention, Intervention and (Re)Conciliation.
Prevention: Through our LifeWise program, young adult presenters went to public school classrooms. These presenters engaged teens in interactive vignettes about making healthy relationship choices.
Intervention: Our center services then focused on one-on-one consultations with women facing unintended pregnancies. We offered free pregnancy tests. We listened to each woman's thoughts and values as she weighed her pregnancy options.
Conciliation: Whole Heart volunteers and staff met with women who were struggling with the emotional difficulties following an abortion decision. We helped women to experience God's forgiveness. We helped women and men to forgive themselves and move forward in freedom.
The Pregnancy Information Center board of directors and leadership saw a need to bring a "window to the womb" to Madison. Nationally, ultrasound had come to be seen as a way to help connect mothers and fathers to the reality of the growing unborn life. We were one of the first pregnancy centers to move to becoming a medical clinic.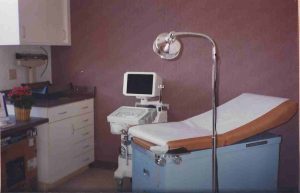 Our Clinic Conversion Committee was formed. We began raising funds to purchase our first ultrasound machine. And we took steps to convert to becoming a specialty medical clinic, staffed with a nurse sonographer and volunteer nurses, under the direction of a volunteer medical director.
Since 1998, thousands of women who are facing an unintended pregnancy have come into our medical clinic. Hundreds of women, and many men, have had the opportunity to view their unborn children via and ultrasound. Hundreds of babies' lives have been saved because their mothers and fathers first saw them in our clinic. At that moment, parents' hearts were turned toward their children. Moms and dads identified with the life, who was their child, growing inside the mother's womb.
In 1998, 1,503 women who live in Dane County obtained an abortion. By 2016, 777 women who live in Dane County obtained an abortion. In 1998, four babies every day, who would have been born in Dane County, lost their lives. In 2016, this number had dropped to two babies a day, 365 days of the year.
While we rejoice every time one life is saved, we also mourn every life lost. We are grateful that the number of lives lost to abortion has dramatically decreased over the last 18 years. But we are grieved that every day — in our county alone — there are still two babies who will never take their first breath. We are saddened that there are women and men who feel they have no other option – and may grieve and regret their abortion decisions.
As we approach the anniversary of the historic Roe v. Wade decision made 45 years ago, we lament the tragedy of millions of lives lost to abortion. We pray that God will bring an end to abortion in our land.
Yet we have hope. Day in and day out, we see God move in the hearts of women and men who are making pregnancy decisions. We see God change hearts and minds when mothers and fathers view their children via ultrasound. We see God transform hearts and minds to know the love and care of Jesus Christ. We know who holds the future and we trust Him for each person who enters our doors.