Amazing things happen at Care Net every day. Here's one story I just had to share.
A young woman I'll call DeeAnn visited our clinic. DeeAnn and her boyfriend's relationship had recently become physical and now DeeAnn feared she was pregnant. DeeAnn, who was raised Catholic, was disappointed in herself and knew her family, co-workers and church friends would be too. The shame, embarrassment and fear of sharing the news of an unplanned pregnancy made her consider quietly getting an abortion.
A pregnancy test confirmed DeeAnn's fears. But after talking with our advocates, she began to reconsider her plans. Our advocate asked her, "If your family members are truly devout Catholics, won't they want to celebrate the courage and determination that you took to choose life for your child?"
DeeAnn hadn't thought about it that way before. Suddenly, things began to seem a little clearer. We asked if she would like an ultrasound so we could determine exactly how far along she was and determine if the pregnancy was viable. DeeAnn agreed.
Our nurse sonographer performed the ultrasound. Despite being early in the pregnancy, our state-of-the-art equipment made it clear a tiny child was growing in DeAnn's womb. Our nurse pointed out the yolk sac and the tiny developing embryo, "How are you feeling about what you saw today?"
"I'm still not decided, but I am feeling a lot better about the pregnancy," responded DeeAnn. "I'll go home and talk with my boyfriend and see how he feels."
Our nurse asked if DeeAnn would consider taking prenatal vitamins with her—stressing it was best to begin taking them early in pregnancy and that they wouldn't harm DeeAnn if she didn't continue the pregnancy. She agreed, and our nurse was encouraged.
Then our nurse was inspired to share one more item: a gift bag. These gift bags contain a tiny onesie, a bib, washcloth and a baby toy. Normally, we don't give these out unless a mom tells us for sure she is carrying the pregnancy to term. But the nurse thought seeing these baby items would make the pregnancy feel more real.
DeeAnn came back the next week with her boyfriend. "We talked about it and decided that even though this wasn't in the plan, we're going to make it work."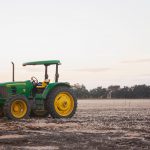 DeeAnn added, "My grandfather passed away recently. He was the biggest John Deere fan. I opened up that gift bag and there was a little crinkly toy made out of John Deere tractor fabric. I knew right then that everything was going to be ok. It was like God winking at me, my special message from Heaven."
Such a small thing, but one that spared three lives: a precious baby from the tragedy of abortion, a mom and dad from spiritual and emotional heartache.
*name changed