In the midst of the COVID-19 crisis, we are making changes to keep our staff and patients safe while remaining focused on our mission. We are following all local, state and federal guidelines and our medical advisory team is continually monitoring the situation and making recommended changes.
Our bricks and mortar clinic is still open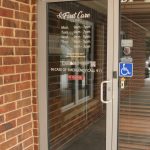 We know that during times of uncertainty and fear, abortion may seem like the best option to someone facing an unplanned pregnancy. Although we have had to reduce and limit some of our services for safety reasons, such as the mobile clinic, our MacArthur Rd. clinic remains open to women who are at risk for abortion or have other immediate needs we can help with. Our nurses will be here to conquer fear with facts and give hope in place of despair.
The Elizabeth House continues to provide a safe place to live
Our maternity home remains open to provide a safe place for women to live and we will continue to provide 24/7 coverage for the residents living here. This is a critical resource for pregnant, homeless women in our community.
We are working to meet critical needs in our community
We've reached out to several of our ministry partners to see how we can help with ground-zero efforts to help those in need. We've sent two van loads of diapers and wipes to be distributed to those who need them most. We will continue to look for ways we can support vulnerable men, women, and babies in our community.
Some of our procedures are changing
We're limiting non-essential visits to our facility until further notice, and that includes suspending volunteer activity.  We will not be able to accept visitors or drop-offs of material donations. Thank you for understanding and we appreciate your prayer as we work to protect the vulnerable population we are here to serve.
We need your support more than ever
We would ask for your prayers and please know that we are counting on your continued financial support during this time. You can make a gift online by clicking here. 
Together we will "speak for those who cannot speak for themselves" and point the way to life everlasting. Thank you for joining us.
We want to support you, too
If you need support or prayer during this time please call us at 608-259-1606 or send an email to sarap@carenetdane.org.  A member of our team would love to pray with you.