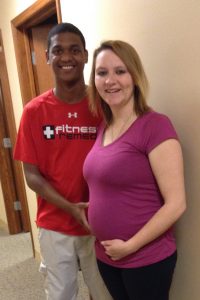 Why Provide Testing for Sexually Transmitted Infections?
Because It Made a Difference for Lindsey, Nathan—and Someone Else — 
Lindsey* was worried about sexually transmitted infections (STIs) so she Googled to find a place where she could get tested. Care Net's First Care Clinic came up at the top of the list – and is free. Lindsey made an appointment and walked through our doors.
Her testing results showed that she was in good health. But her symptoms and a test did indicate something else: pregnancy.
Lindsey and her boyfriend, Nathan*, were shocked to find out she was pregnant. They decided that regardless of the obstacles, including a lack of insurance, Lindsey would have their baby and raise their child. She got started with Best Beginnings lessons and Nathan was happy to be paired with a male mentor, Jason.
Lindsey says she loves our clinic, especially the education. "I am learning about my baby. I am comfortable with everyone here – and it's not usually like that for me. Everyone is willing to listen. There is no judgement."
"The people at First Care Clinic have been helping us build our relationship together. They've helped us in working through the rocky times."
Nathan adds that he likes the environment and has appreciated meeting with Jason. He also likes doing some of the lessons with Lindsey and a clinic volunteer, often Cassie. "Cassie and Jason listen," said Nathan.
Lindsey went on, "First Care Clinic has helped us form new goals together. They are coaching us and being there as a support as we're figuring things out."
"Thank you to for making it possible for us to talk with people at First Care Clinic about our lives. It's a personal experience – not just a doctor's appointment."
What began as a medical appointment for STI testing, has turned much more. This little appointment grew to mentoring, teaching and walking alongside Lindsey and Nathan. Because of you, Lindsey and Nathan are forming a stronger, healthier relationship. and are on their way to becoming the kind of mom and dad they each want to be.
Thank you for making this wrap-around, pro-abundant life kind of care possible for Lindsey, Nathan and their little one who is soon to be born.
To find out more about why we provide free STI testing and treatment for women, check out our "What's New" blog post.