This news actually is not new, however. We always have needed men.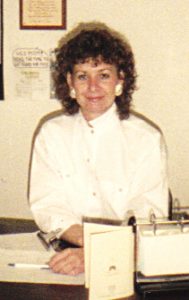 31 years ago last month, Liz Osborn began as Care Net's Executive Director. At that time, Liz shared her vision for increasing the effectiveness of this ministry. At the top of her list: Recruiting men to meet with the boyfriends and fathers of the women we serve.
Here's what Liz had to say. "One way to make our ministry more effective is to get more people involved in it, giving us a larger pool of God-given talents to meet a greater variety of client needs."
"We especially need concerned Christian men in our ministry. Men have already done a great deal of nuts-and-bolts for (Care Net) literally. They have helped construct our office, put in carpet and built furniture. And they have served on the Board of Directors and supported their wives who serve as volunteers.
"We have need now for men who can meet with our clients' boyfriends and fathers. Most (female) clients would prefer to see another woman during the initial interview. But a trained male consultant can establish rapport with a man who is involved in an unintended pregnancy. He may be able to give support and (share the gospel) over time."
While Care Net has grown tremendously over the last 31 years, this commitment to men and fathers has not changed. It is still at the top of our list to be able to better serve men. These men are too often the forgotten partners in making pregnancy decisions.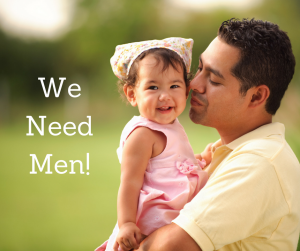 Nationally, more than 1 in 3 women (38%) indicate that the father of the baby was most influential in their abortion decision. These men are important people for us to get to know and support!
If a man is trying to figure out his role when his girlfriend is pregnant, we can help. Or if he wants to learn to be the best dad he can be whether or not he and his girlfriend will be parenting together, we can help. And we can help best when there is a dedicated man who is available to meet one-on-one with another man.
We are most grateful for every man who volunteers to be available for the boyfriends, husbands and fathers of the women we see in our clinic. To step up our availability for men, we are also seeking to hire a part time Fatherhood Program Coordinator. This Fatherhood Coordinator will work alongside male volunteers. Together they can take our fatherhood program and outreach to men in our clinic and community to the next level.
As Liz expressed 31 years ago, "We have need now for men who can meet with our clients' boyfriends and fathers." Please pray with us that God will bring a Fatherhood Program Coordinator. And that He will supply a small army of men who will volunteer to make a difference in the lives of young men. By making a difference for the men, they will make a difference for women, babies and entire families. They will help families move into experiencing the abundant life that God has planned for them.