As Mother's Day approaches, it's a good time to take a minute to honor and celebrate the amazing women who are making daily sacrifices for their little ones. Women like Madeline.
Madeline came to see us at First Care Clinic nearly five years ago. Madeline was pregnant and confused about what she should do. Her sister told her about our clinic and thought we might be able to help.
"I remember that ultrasound. My boyfriend was with me and we were amazed that it looked like a baby. Seeing him, I knew I wanted to be a mom." It's been a difficult journey since the day Madeline chose to parent her son, Damion*. But a journey filled with lots of joy and love, too.
Madeline and her boyfriend have had an on-again, off-again relationship. Over the years, they've learned to co-parent together even though they are no longer a couple. She knows just how important it is for her son to have both a mom and a dad.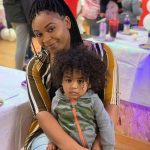 Madeline doesn't sugar-coat the hardships of being a single parent. "Through the years, I've had to make a lot of sacrifices. You have to be a superwoman. It's about you and your child and figuring out how to make a life. There were times when I felt like I was doing the best I could and still not getting ahead. I earned enough money to disqualify me for subsidies like food stamps or childcare help, and yet barely had enough income to scrape together the rent money for a modest place to live."
The pandemic made a difficult situation worse. "Forget about finding childcare. There was none, and I was afraid Damion might get sick." Madeline decided to leave her 9-to- 5 job in exchange for one where she can work at 5 am and be home mid-day so her mom could watch her son. That means waking at 4 am in order to get her son ready to drop off. Though exhausted, Madeline can spend a few quality hours of awake time with her son each evening.
Recently, we saw Madeline at our PAP clinic. She has no medical insurance, so she's grateful Care Net has a free PAP clinic for women like her. "I really like coming to First Care Clinic. The medical staff is so welcoming – they are like my family. I know I can trust everyone there and that they will be good people."
While delivering quality medical care is important to us, we also care just as deeply about each patient's emotional and spiritual health. During her check-up, our nurse asked Madeline about her spiritual health. Madeline shared she was looking for a Bible that was "easier to understand." We keep those handy for times like this, and Madeline went home with a Bible both she and her son could read together.
"Faith keeps me going. Every day is not going to be easy, but my hard days will not last. God has a plan and where I am is not where I'm going to stay." Madeline shared how thankful she was for both her church and her pastor, who's been a source of spiritual growth and encouragement.
Madeline has a passion to help others who are struggling. "Sometimes the best advice is from people who have been where you are and who've had the same struggles." She serves on the community board at her church and wants others—especially teenagers—to know about our clinic. "They need to know about this place because so many kids need help, and this is a safe place for them to go."
Super Moms like Madeline are everywhere!
In honor of Mother's Day, can you find a way to support a single mom like Madeline? Time alone is a precious gift to all moms, but especially those who are managing motherhood on their own.  Can you offer to babysit? Or perhaps pay this month's rent, grocery or electric bill so she can tuck some money away for savings.  A simple act of love will help these superwomen thrive!
*names changed