Lydia* came to our clinic for a pregnancy test and ultrasound. She'd lived abroad for a number of years and had just returned to the States because of boyfriend troubles. Lydia was currently living with her sister.
Shortly after Lydia settled into her new home, she confided in her sister that she feared she was pregnant. Her sister, who had just visited our clinic for PAP testing, knew just where to bring Lydia.
Lydia wasn't sure how she felt about the pregnancy. She worried about how she'd cope in a strange city, with no insurance or job and her sister was only expecting her for a short visit. We offered her an ultrasound, and she accepted.
Lydia expected to learn she was pregnant, but she discovered something she wasn't prepared for. Lydia was carrying not one, but two, precious babies – twins! While those two tiny images brought smiles and joy to Lydia, she also knew it made her situation even more complicated.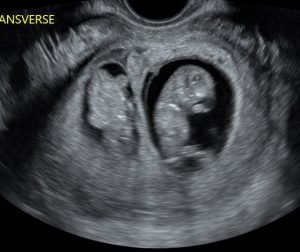 Where would she stay while she looked for work and a place to live? How would she get healthcare since she didn't have insurance? Although Lydia was born in the United States, she hadn't lived here since she was a child. She knew little about how our programs and systems worked. It was all a little overwhelming.
But, thanks to you, she was in the perfect place to address ALL of her needs. We were able to enroll her in BadgerCare on the spot so she could begin to access prenatal care. Next, we offered her a chance to live in our maternity home, The Elizabeth House, where she could make a fresh start surrounded by supportive people who would help her every step of the way.
Lydia will face some challenges; she knows that. But finding so many resources were here for her – completely free – gave her the courage to say yes to two precious babies. We can't wait to meet them!