My husband recently said to me, "I want to help people; I just don't want to get involved in their mess." I chuckled because I understood the feeling. Truth is, I have thought the same thing.
And yet, that's what God calls us to do. To follow Christ is to follow his example. "While we were yet sinners, Christ died for us." Jesus didn't wait for us to get our act together or clean up our mess. He knew we were helpless in our sin.
Like me, perhaps you worry about getting involved in "messy situations." The pregnancy help business is anything but clean. We work with women who are involved in sexual sin. The reasons for that can be complex or simple. Many have spent their life feeling like a sexual object, unaware of their true identity as daughters of the King. Some feel betrayed, let down by a culture that says sex can be separated from emotional connection and from relationship.
These women can be injured by sexually transmitted infections or unplanned pregnancies – left to suffer because of the "mess." At Care Net, we are up to our knees in the "messes." And that's ok. In fact, it's more than ok.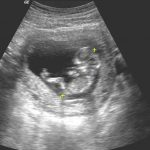 Nearly nine months ago, a young woman came into our clinic for an ultrasound. She was alone and looking for resources. She knew one thing: a home pregnancy test was positive. She didn't know who the dad was. She didn't know who would support her, where she would live, how she would cope. She didn't want an abortion, but others were pressuring her. After her ultrasound, I asked if I could see the picture. I ooohed and aahed at the amazing pictures. "Look at those legs! Those arms! I can see the baby's head."
The mom looked at me, puzzled. "Would you like one of these pictures? You're the only person who seems to care about the baby. No one else does." That ultrasound photo has sat in front of me for many months. It's a daily reminder to pray for both the mama and baby.
Just a few days ago, I held that baby. Ten tiny, precious fingers and toes. Two arms. Two legs. A gorgeous head of hair. I held that baby close to me and experienced joy I can't describe. I've walked through some messy situations with this mom. More will likely come in the future. But the joy I experienced knowing this precious child was alive; knowing that he had a future and a hope – made me completely forget all else.
Because at that moment, my heart was so full of love, I wondered if it might burst.
If you want to experience joy like this, come get messy with us. Sign up for a Care Net 101 and learn more.