How long do you think it takes from the time a woman confirms that she is pregnant to deciding to have an abortion?
A. 0 days
B. 3 days
C. 1 week
D. 2 weeks
If you guessed A, zero days, then you are correct.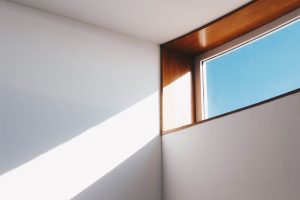 Do you find this shocking? I did when I first read it. But for those of us who want to help women facing unintended pregnancies, all hope is not lost. The window of time a woman is considering abortion is short but is not quite zero.
According to a study of abortion patients, the median time from suspecting pregnancy to confirming the pregnancy was 4 days. The median time from confirming the pregnancy to deciding to have an abortion was 0 days. Likely, she is beginning to think about her options as soon as she suspects she is pregnant. So she may be considering this decision before she knows for sure if she is indeed pregnant.
In fact, about 4 in 10* of our patients who come to us concerned about a pregnancy, have a negative pregnancy test. Yet they have clearly been thinking about what they'll do if they are pregnant.
But once a woman knows she is pregnant and has made an abortion decision, she will move quickly. The median time from deciding to have an abortion to first attempting to obtain abortion services was two days. The median time from first attempting to obtain abortion services to obtaining the abortion was seven days.
Locally, we have a little more time due to waiting times to obtain an abortion. In Madison, the estimated waiting time for the first appointment at an abortion clinic is about 10 days and the time after the initial appointment to obtaining the abortion is about 7 days.
Nonetheless, all these numbers mean that we have a very short time for a woman facing an unintended pregnancy to find our clinic. About one-fourth** of our patients find us because someone else told them about our clinic. Perhaps a friend or a family member or their doctor is familiar with our clinic. But 65%** of our patients find us by searching online.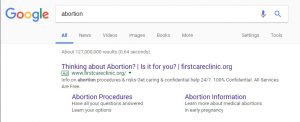 That is why we are committed to having our clinic being easy to find online. We invest in online advertising because our patients live online. Before coming to our clinic, they will google "signs of pregnancy" or "abortion" or something similar looking for help. They will look at our website, read our reviews and possibly check out our Facebook page to make sure they really want to contact us.
When they are ready to contact us, they can call, or they may request an appointment via our website or text us asking about making an appointment.
Most of our patients are in their 20s – so everything social, online and text is of utmost importance. Having everything available at a "click" is especially necessary when a woman will finalize her decision in a matter of hours.
We want to be the first choice for every woman in our community who is facing an unintended pregnancy. To be that first choice, we need to be easy to find online, so she finds us in those critical hours.
*42% of the patients who came to us for pregnancy testing in 2017 had negative pregnancy tests.
** From clinic intake forms for the first six months of 2018, 26% of our patients found us via word of mouth and 65% found us online.