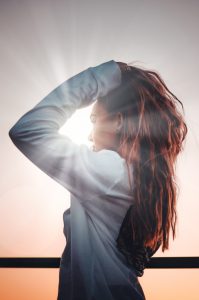 "I think I might be pregnant," Carly confided to our staff in a text.
Carly* was not old enough to drive, but she was old enough to face a possible unplanned pregnancy. She contacted us, filled with despair and anxiety. Too afraid and ashamed to talk with her mom, she was relieved to have an informed, neutral party to confide in.
I wish I could say that seeing young patients facing unexpected pregnancies is unusual, but sadly, it's not. According to the CDC 40% of high school students admitted to having sexual intercourse. And that choice is changing the course of their lives: Nearly 210,000 babies were born to teenage moms in 2016, and half of all new STDs reported are among young people aged 15 to 24.
Luckily, Carly found our free medical clinic and the chance to get the help and support she needed. After talking to our staff Carly texted to say, "You made me feel calmer. You helped more than you know."
And because of that conversation, Carly felt brave enough to come into our office.
At her appointment, our nurse took a history and performed a laboratory-grade pregnancy test. Carly was relieved when the test came back negative. But we weren't ready to send her on her way just yet. Instead, we took a few minutes to talk with Carly more about her future, about her hopes and her dreams. And, boy, did she have some! An excellent student, Carly dreamed of being a city or state leader. She loved sports and was a captain of the volleyball team. We reminded Carly that the decisions she made now could affect her ability to meet her goals.  We also talked about what a healthy relationship could look like. That if she chose to wait for marriage to experience a sexual relationship, she wouldn't have to live with fear or regret about the consequences—and she wouldn't have to relive the anxious weeks she had just experienced.
We asked Carly to think about how sex might interfere with true intimacy. Many young couples focus on a sexual relationship when they should be getting to know one another and building the true intimacy which leads to long-term relationships like marriage. Sex in marriage enhances intimacy, while sex outside of marriage creates false intimacy and relationships that don't last beyond the next big argument.
"I think I did rush into this," Carly admitted. "I don't know why we started having sex in the first place, but I know for sure it wasn't the right time."
Thank you for making it possible to comfort and support woman like Carly. Because of you, she and hundreds of other young women can now see healthy relationships in a new way and make different choices. Together, we are transforming hearts and lives.
*name changed