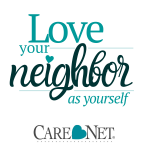 God commands us in His Word to Love our neighbor as we love ourselves. At Care Net, we believe that we can love our neighbor by modeling a Christ-like response to women and men who are making important life decisions.
For us, that means leaving judgment at the door. We instead focus on showing compassion and letting each woman know we care about her and what she is experiencing.  It means taking the time to listen to the fear and worry that drive women and men to believing that abortion is their only option.
That means sharing hope and resources to couples like Alyce* and Dan.* They hadn't planned on a pregnancy and didn't feel like it was the right time.  The news of a pregnancy felt like a burden, not something to rejoice over.  We helped them process the news and explore all their options in a safe, non-threatening way.  We also offered an ultrasound.  They accepted and that's when they saw their preborn child for the first time. A 'pregnancy' became a 'baby'.
They left our clinic still not sure what they wanted to do. But when we followed up the next day, they said, "So what if it's not the perfect time.  We can do this."  Praise God for changed hearts!
For women like Brianna* who visited our mobile clinic worried she might have a sexually transmitted infection, it means sharing truth about lifestyle choices.  When Brianna shared how lonely she was, we were able to talk about the source of real, true love. We invited Brianna to come back for healthy relationship mentoring.  There we shared with her that she could turn to God for real love and find companionship within a church family.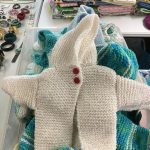 At Care Net, we understand that families need support far after the pregnancy decision is made. Last week we held two special events where we gave diapers, blankets and other baby supplies at both of our mobile clinic locations.  We saw many single and other parents who were struggling financially. They were grateful for the help of diapers and other resources. Your generosity made it possible to provide blankets, hats, sweaters, diapers, wipes and other needed baby items to dozens of families.
Thank you for being part our ministry and loving your neighbor by sharing resources, compassion and loving-kindness to every person who walks in our door.  Your love is renewing hope in the brokenhearted.
*names changed