Aimee is celebrating life, thanks to you!
Aimee* and Ryan's* relationship teetered between on-again/off-again. And when the pregnancy test came back positive, they were mostly "off."
"I knew having a baby and not being married would be a huge disappointment to my parents," Aimee told us, "I was really torn between parenting and abortion."
That's when she Googled "pregnancy" and saw ads for First Care Clinic. After reading the positive reviews, Aimee sent a text request and was offered an appointment the same day.
During her visit, Aimee completed our decision guide, a research-based tool used in a wide variety of medical settings to help people make their best decision. The client advocate asked Aimee, "Is there anyone in your life who would support you with a decision to parent?"
As she reflected, Aimee realized that yes, the father of the baby would be supportive, but so would her parents. She thought to herself, "Some people regret having an abortion, and some don't. But I've never heard anyone say they regret having an unplanned child."
Aimee had never been around babies or children and was happy to learn we offered parenting classes. She appreciated the chance to improve her skills, learned something new with every class and loved shopping in our store with the credits she earned. The only problem Aimee faced was getting across town for lessons, which was challenging with her full-time job. Our new mobile clinic will make it easier for her to continue taking classes now that her daughter is born.
And those classes proved to be invaluable because baby Isabella* arrived earlier than expected and with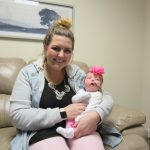 complications. Born with a cleft palate, Aimee's precious baby girl needed to spend 42 days in NICU for special care. This courageous new mom gets lots of support from the children's hospital and has learned how to feed, syringe, and do everything differently because of her baby's feeding tube. Isabella will eventually undergo surgery to correct her cleft palate, but for now, she is getting physical and speech therapy along with support from a host of other specialists.
Being a mother has brought Aimee more joy than she could have imagined. "Thank you for helping me see I could be a successful mom. I would 100% recommend First Care to others, and I've already told people about you."