I know, I know! We're all glad 2020 is over. But as I reflect on the year, I have to rejoice at the many blessings this strange year brought.
We were able to introduce our services to new women. At a time when many clinics cut hours or closed entirely, we remained open. In 2020, 438 women visited Care Net's First Care Clinic for the first time.
We offered an emotional refuge to women from all walks of life. When our city was under stay-at-home orders, we continued to triage patients and see those in need. In anxious times, women with few care options received critical help and guidance to navigate pregnancies, both planned and unexpected.
We provided vital resources to families in need. Through partnerships with local churches and community groups, we were able to widely distribute diapers and other essential baby supplies.
We hope to build on these successes. Our board has been diligently working on a strategic plan that includes exciting new initiatives designed to meet growing community needs. As always, we will keep our mission first and foremost as we seek to model Christ by providing physical, emotional and spiritual care and resources to women and men facing an unexpected pregnancy.
We know navigating an unplanned pregnancy has the potential to disrupt every aspect of one's life—and the fewer resources, the greater the disruption. Guttmacher Institute reported that three-fourths of all abortion patients were low income, so we know a lack of resources makes a child more at risk for abortion.
In a community as rich as Dane County, no woman should believe death is preferable to life for her preborn baby. Together with your help, we can build resources and partnerships that allow women to access the resources they need so they can hope and dream of a bright future.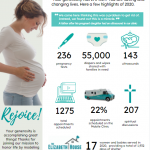 Each year we pick a scripture to lead us through the coming year. I can't think of a more fitting verse than the one we've chosen for 2021: "Do justice, love kindness and walk humbly with your God." Micah 6:8
Together, we'll do just that. Let's be a voice defending the value of every life, showing kindness and generosity to those in need, and humbly thanking God for His tender mercies every day.