Molly* has struggled with substance abuse all her adult life. She's been in and out of rehab and done better and worse. The end of 2017 was part of the worse. She relapsed. Molly went to get help and started rehab. During this time she met a guy. After she'd been out of rehab and sober for two weeks, she began having signs that she might be pregnant. She took a home pregnancy test. It was positive. She took another one to be sure. And another. And another. All were positive. She could not believe it.
Molly came to us scared and confused. Additionally, she felt added pressure because her finances were in shambles. "It feels like I don't have anywhere else to turn." Molly had burned bridges with family and friends when she was addicted – and needed money or help time and time again. Molly felt a lot of judgment from people in her life because of her choices.
On her intake form, Molly checked that she planned to parent. But she also marked that she wanted information on all of her options: parenting, adoption and abortion. She circled that she wanted all the resources we offer except for two. She wanted a pregnancy test, ultrasound, pregnancy and parenting education, information on housing options, community resource referrals and more.
Molly also indicated that she was a Christian. During their conversation, our nurse asked her, "Where do you feel your faith is at now?"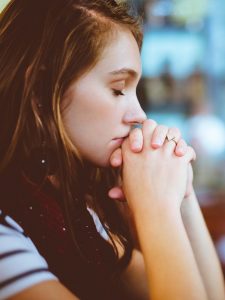 "I know He loves me," Molly replied, "But I've made so many bad choices in my life. I want to finally get to a good place."
She continued to tell our nurse that recently a friend had invited her to church. "It was wonderful," Molly said about her experience there, "It was the best two hours of my life."
As they talked about Molly's faith, our nurse said, "Other relationships may get rocky. There is one person whose care for you will never change—that's Jesus Christ."
Not surprisingly, Molly's pregnancy test was positive. Our nurse and a client advocate met with Molly to provide her with options—referrals to community resources to help with finances, housing and staying sober.
Molly was excited to hear about our Best Beginnings education program. She wants to learn all she can.
And she was absolutely thrilled to hear about our fatherhood program.
Molly told us that the father of her baby wants to parent and has been helpful. However, he has been drinking and not making good choices recently. With Molly working hard to stay sober, she told him, "I want your support. But I can't have you in my life right now if you're not going to be making choices that are supportive of me in this pregnancy."
Molly wants the father of her baby to be engaged in her life and her baby's life—but only if it's healthy. She said, "I would require him to do (the fatherhood program) if he wants to be involved."
As Molly's appointment drew to a close, the conversation turned back to spiritual things.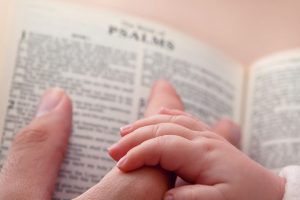 Our nurse asked Molly if she had a Bible. "Yes," Molly replied. "Good, that's the best book you can read," said our nurse. "Of all the valuable information we're giving you today, the best resource is the Bible. That is the best tool I can give you to help guide you through your life choices."
Just before she left, staff offered to pray for her and prayed for Molly right in our reception area. Molly was very appreciative and thankful. "You're the angels that I needed right now."
We look forward to walking with Molly as she learns to become the best mom she can be, navigates her relationship with her baby's father and begins to grow in her faith in Jesus Christ.
*Name changed to protect privacy.