On April 8th, HBO comedian and host of "Last Week Tonight," John Oliver, aired a satirical "comedic" attack on pregnancy centers. We'd like to be able to ignore his segment, but, sadly, there are so many things Oliver got wrong. He got these wrong even though his team reached out to national pregnancy center organizations for background. Because of his inaccuracies, we feel it's important to comment.
In large part, Oliver relied on recycling the same unfounded objections to pregnancy centers that have been around for over 30 years. (Warning: Oliver's show includes gratuitous foul language.)
Oliver claimed that pregnancy centers spread "misinformation" about abortion and contraception. He also claimed that pregnancy centers are "emotionally manipulative," and that they exist to "try to talk women out of terminating a pregnancy." His show may have given these mocking claims a bigger platform but did not share anything new.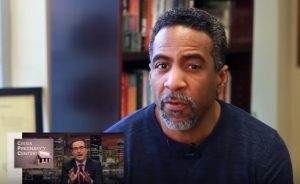 In stark contrast to Oliver's show, Care Net National's president, Roland Warren, released a thoughtful video in response. In it Warren shared the facts about the life-transforming, life-affirming work of pregnancy centers. He presented the positive work pregnancy centers do in their communities. Warren also supported his claims with data and debunked Oliver's assertions.
Oliver's show is just the latest example of pregnancy centers occupying the national spotlight.
Only a few weeks earlier, the U.S. Supreme Court heard oral arguments in the NIFLA v. Becerra case. This case pertains to a California law passed in 2015. This law mandates that pregnancy medical clinics provide information to their patients—such as a sign in the waiting room—on how to obtain a state-funded abortion.
Questions and comments from Supreme Court justices indicated much skepticism about this law's constitutionality. It was described as "burdensome and wrong" by Justice Sotomayer.
And in fall 2017, a few groups launched a national campaign to "expose fake clinics." This involved recruiting and training volunteers to post fake negative online reviews about pregnancy centers: truly ironic considering that these groups seek to discredit pregnancy centers for supposedly using "deceptive tactics."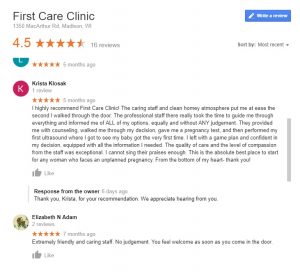 But perhaps these groups felt desperate to discredit women who are actual clients of pregnancy centers and overwhelmingly say their experience was positive. For example, in 2015, 97.7% of clients who completed a written exit survey at a Care Net-affiliated pregnancy center indicated their overall experience was positive. At our own First Care Clinic, 98% of patients responding to exit surveys in 2017 rated their experience as very good or excellent. Those who have reviewed us online have given our clinic a combined rating of 4.5 stars on Google.
This negative media attention could present challenges. It is a battle—a battle with very high stakes. We don't know where this will lead. But we expect that more people will be aware of the existence of pregnancy centers because of this media attention. And we know what the enemy intended for evil, God is able to use for good.
It may be that a woman who had no idea that a place like our clinic existed will seek us out in her time of need. She will know to look for us because she has heard something about pregnancy centers. If she finds our clinic online, she will see reviews from actual patients who have found a supportive place and much appreciated help.
She will read that one former patient said, "This is the absolute best place to start for any woman who faces an unplanned pregnancy." And, "The professional staff there took the time to guide me through everything and informed me of ALL of my options, equally and without ANY judgement." And that another former patient said, "I would definitely recommend this place to my friends and family. Simply amazing!"
Our hope is that a woman facing an unintended pregnancy will trust what actual patients have said, instead of buying into recycled attacks. That this woman will find us: A place where she is listened to and cared for – no matter her life circumstances or her decision. A place where she can receive medical services like pregnancy testing, ultrasound and STI testing—all free of charge. And a place she will find an amazing source of help when she does not know where to turn.
Please pray with us that what the enemy intended for evil, God will use for great good. Pray that He will use these attacks for His Kingdom and glory and to help pregnant women in their time of need.
Watch Roland's video to be aware of this ongoing battle. Then please pray for pregnancy centers. Pray for Care Net Pregnancy Center of Dane County. Pray for John Oliver and others who think they are warning women. And pray for the women who rely on our support, each and every day.
Would you like to get updates every other week to pray? Join our prayer team.