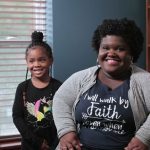 Vivian* told us:
Five years ago, I found out I was pregnant. I thought about abortion because I was scared and alone. I didn't know how I'd manage—how was I even going to put food on the table? My godmother told me about The Elizabeth House. I was afraid, but I did fill out the application. And when I toured, I felt right at home.
I moved in and had a baby girl, Bella*, who's now five years old. I lived at The Elizabeth House about eight months. Even though I grew up in the church, I really didn't have a relationship with the Lord. It wasn't until I moved into The Elizabeth House that I really understood that God was love. That was really big to me – seeing people that I didn't know who were really happy for me, who had joy for me and cared about me.
I've been successful after leaving because of my church family. It's like where The Elizabeth House left off, they picked up. Even though I'm raising Bella and I'm her mom, the way I see it, I'm not raising her alone. I have the help that I need.
Vivian's friend and mentor, Kim, shared, "I met Vivian bringing dinner to The Elizabeth House. I loved her sweet spirit, and after she moved out, we reconnected. We get together often, sharing dinner or visiting, and Bella stays the night and plays with my children. I love spending time with them. It's a beautiful, two-sided relationship. I have just as much to learn from Vivian as she has to learn from me. We encourage each other."
She continued, "If we really think that life is important, and we want to keep moms and babies together, then the church should be a support system. We should be family. "
Vivian told us, "I learned at The Elizabeth house that I'm a person – and that I matter. What I want in my life, how I want my life, it matters. I believe that The Elizabeth House is really where I started my life."
We're so thankful for our church partners who come alongside our moms and stay connected long after they leave our program. If you are interested in learning how you can mentor one of these courageous mothers, please call us today at 608-259-1606.
*names changed